15 Examples of the Magnificent Phenomenon of Crown Shyness
Crown shyness might just be one of the most photogenic things in nature. Here are a few reasons why.
It was first officially described in the 1920s and is something you might never have noticed before. The term "Tree Shyness" was first coined in the 1950s by the botanist Maxwell R. Jacobs.
Crown shyness is thought to occur for various reasons:
Insects and/or disease - It is thought by some botanists that trees have evolved this strategy to prevent the ease of spread of insects and pathogenic bacteria and fungi through tree canopies. The idea is that by leaving a gap between the canopies of each tree, there are no bridges between adult trees to spread them.
Photosynthesis - Others believe that the very process of photosynthesis causes this phenomenon. When part of a tree's canopy is shaded by a neighboring tree, the shaded tree stops growing in that area/direction thereby creating a gap.
Injury to the tree - As trees tend to sway in the wind they will inevitably collide with other trees if close enough. This will break twigs and branches which disrupts the tree's canopy and, therefore, creating gaps between neighboring trees.
Allelopathy - This is the hypothesis that neighboring trees actually "talk" to one another using chemical compounds. If true, each tree "tells" other trees that it is there, causing them to stop growing in that particular direction.
Like with anything in the natural world, it is quite likely a combination of all of these hypotheses.
What are some amazing examples of tree crown shyness?
So, without further ado, here are some great examples of crown shyness in nature. This list is far from exhaustive and is in no particular order.
1. This image of the canopy of Borneo Camphor trees is amazing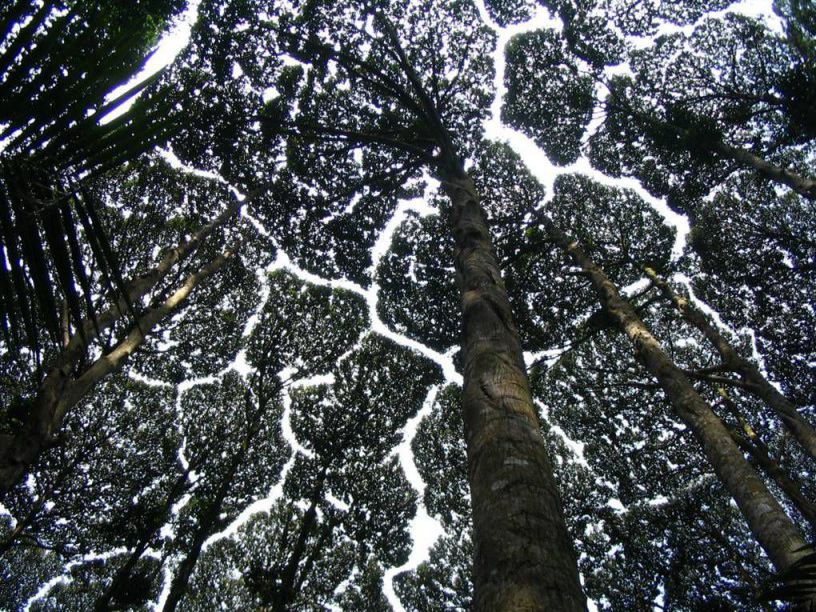 This image of the canopy of a D. aromatica (Borneo camphor tree) really exemplifies this amazing natural phenomenon. You can clearly see the extent to which crown shyness can occur in nature.
2. Pine trees love to avoid each other too
Pine trees are another species of trees that tend to exhibit crown shyness. This image very clearly demonstrates this incredible phenomenon.
3. Here is another amazing example of crown shyness
"In a phenomenon called 'crown shyness,' each tree in a forest reaches up to the sun and yet each keeps its leaves to itself...The gaps between them let in the light. It's a beautiful thing, this careful distance." https://t.co/23NN2SpqT8

— emerson judd (@emmyajudd) April 7, 2020
This amazing photograph also clearly shows crown shyness very clearly indeed.
4. This video helps you visualize how much trees sway in the wind
TRUST THE NATURE || Crown shyness is a phenomenon in which the crowns of fully grown trees do not touch, forming channel-like gaps, seen here from above. ? pic.twitter.com/uWSVJDjAPK

— Balaji Duraisamy (@balajidtweets) April 8, 2020
As one hypothesis for crown shyness occurring is physical damage from collisions, this short video clearly demonstrates how much trees actually move in the wind.
5. Another beautiful example of crown shyness
It seems so sweet to me that humans saw this and called it crown shyness ; pic.twitter.com/Vk9F1RSxuh

— ? (@dropoutdonut) April 6, 2020
This is yet another amazing photograph of crown shyness in the wild. Truly stunning.
6. Even trees practice physical distancing, apparently
#ForestryFactFriday #DYK trees practice #PhysicalDistancing too? Well, sort of?Crown shyness is a natural phenomenon occurring when trees aren't touching other trees in the forest canopy. Wind damage & competitiveness for light & growth are a few theories of crown shyness causes pic.twitter.com/8ndly3pOJK

— CIF-IFC (@CIF_IFC) March 27, 2020
This image really does show the extent to which some species of trees practice physical distancing.
7. Here are some more amazing examples of crown shyness
feeling really sad and hopeless so I'm thinking of the magic and poetry of sky rivers created by crown shyness pic.twitter.com/d9hKQnEHy5

— ✨??jazz??✨ (@jasminek027) March 21, 2020
We could study pictures like this for hours.
8. This video shows trees in the wind from below
Looking up at crown shyness of the Mata Atlântica forest of coastal Pernambuco, Brasil. February 2019 pic.twitter.com/NASLEapr0n

— David (@organicgay) January 4, 2020
Here is another clear example of why crown shyness is a thing. You can really appreciate the "logic" behind leaving gaps between tree canopies here.
9. This image almost seems photoshopped
Sometimes the canopies of trees in tall forests avoid touching. This is called "crown shyness". pic.twitter.com/QFp8nRVv5n

— Weird Science (@weird_sci) December 1, 2019
Here is yet another striking example of crown shyness. It almost doesn't seem real.
10. This shot of trees during autumn shows crown shyness is really similar to art
The #trees behind my yard exhibit a wonderful example of crown shyness. #fall #autumn pic.twitter.com/HrOBz7f3v8

— Adam Hill (@AdamHillPhoto) November 5, 2019
This image really does look like something an artist would dream up. Except it is 100% created by nature.
11. The phenomenon might be even more impressive in wintertime
I observed crown shyness amongst oak trees a couple of weeks ago, and today saw the phenomenon again, but this time in a different species - alder - in the carr at High Broom Wood. pic.twitter.com/Bvc4tsxtkE

— Moira O'Donnell (@nervousbotanist) February 18, 2019
Crown shyness might be even more impressive when the trees have lost their leaves for the winter.
12. Here's another example of crown shyness at winter
Crown shyness amongst the oaks in Frith Wood. pic.twitter.com/J3SlerBEIi

— Moira O'Donnell (@nervousbotanist) January 20, 2019
Really amazing.
13. This one is cool
TIL that trees displaying "crown shyness"—trees that make space for each other, forming channel-like gaps at the crowns—can be so intertwined at the roots they sometimes die together ? pic.twitter.com/0LaToElUs5

— Christine Larivière (@cdlariviere) December 28, 2018
A very, very nice example of crown shyness.
14. Here is another amazing example of crown shyness
View this post on Instagram
This one almost seems like something from a dream.
15. This one might be our particular favorite
And finally, this one might just be our favorite among these beautiful shots.
science
The company, Takachar, turns 'waste' biomass into profitable items. In doing so, it aims to broaden smallholder farmers' livelihood.