Algae Canopy Generates 4 Hectares Equivalent of Oxygen
[Image Source: Ecologic Studio]
While you are out enjoying the town on a sunny day, finding shade can be a necessary task to keep cool. One England-based design studio has created a shade canopy that functions by pumping algae through clear plates, which alters the shade in the area and generates quite a bit of oxygen. As the sun becomes more present in an area, more algae will grow in the pumping liquid making the shade platform much less transparent, therefore, generating more shade. One polygonal structure generates the equivalent oxygen to 4 hectares of dense forest, signaling an innovative solution to many of the world's problems. Ecologic Studios is behind the innovative shade platform, designed specifically for Expo Milan.
[Image Source: Ecologic Studio]
The structure uses a basic hydraulic pump to circulate algae solution through the different layers of the clear shade pieces. As the canopy is exposed to sunlight the microalgae photosynthesize and grow, according to Gizmag. This not only creates an enormous amount of oxygen but the color of the liquid changes to a deeper green creating more shade.
The larger structure, built for the Milan Expo in 2015, generated around 150 kg of biomass containing 80 percent vegetal proteins, according to inHabitat. Each BioCanopy also responds to people walking under it. When a person is sensed enjoying the shade, the speed of pumping is increased to stimulate algae growth. Below, ecoLogic Studios will take you through the setup of the shade canopy.
https://www.youtube.com/watch?v=bC7yLdYbnkU
So far, the BioCanopy is just an installation piece, but the mechanics behind the system are fairly simple. All that is required to make the system work are clear basins with channels on the interior, a small pump, tubing, and an algae seed. Through exposure to sunlight, the system will generate shade as well as generating increased oxygen for the area.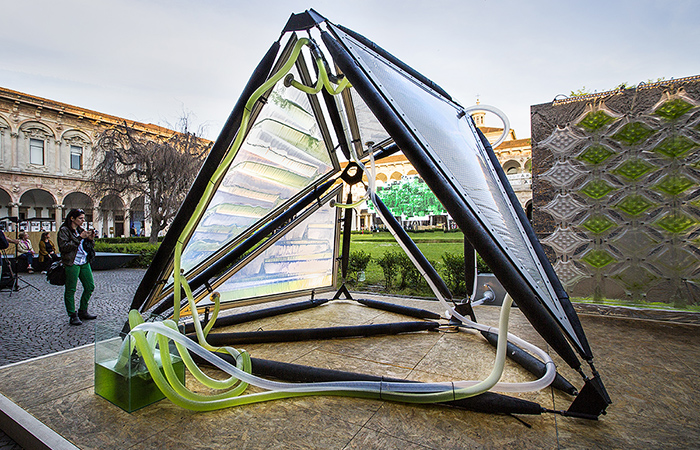 [Image Source: Ecologic Studio]
innovation
Award-winning artist and engineer Dan Morrison talks to us about the design process of his whimsical and functional statement pieces. According to him, his work is a celebration of architecture and engineering.