NASA's Ingenuity Helicopter Successfully Completes Its Third Flight
Ingenuity continues to break records and make Martian history with its latest flight.
Ot the 25th of April 2021, NASA's Ingenuity Mars Helicopter set another new record on its third flight. According to NASA, it flew faster and further than its two previous flights, and any test flights on Earth.
Taking off at around 4:31 EST (12:33 pm Mars Time), it reached a height of 5 meters (16 feet) and traveled for a distance of 50 meters (164 feet) -- just over half the length of a football field.
Not only that, but it managed to reach a top speed of around 2 meters per second (6.6 feet per second). This might not sound like much, but it is a marked improvement on its previous flight where it traveled 3.96 meters (13 feet) at 0.49 meters per second (1.6 feet per second).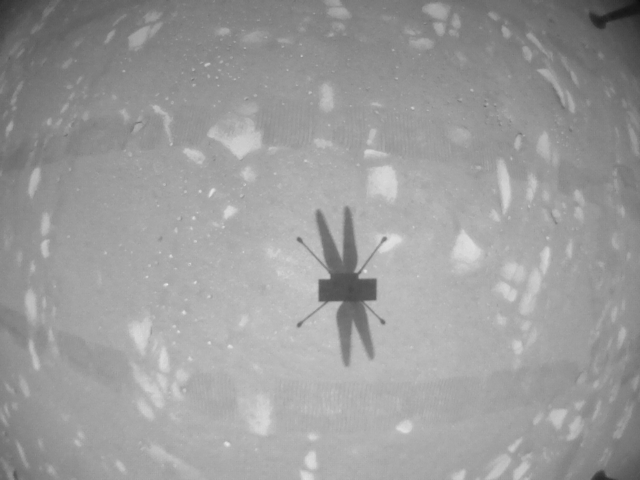 Throughout the flight, the helicopter collected a treasure trove of data that is yet to be analyzed by NASA's Jet Propulsion Laboratory in Southern California.
More flights are planned in the coming days
It is hoped this information will help plan future Ingenuity flights and future rover missions to the planet too.
"Today's flight was what we planned for, and yet it was nothing short of amazing," said Dave Lavery, the project's program executive for Ingenuity Mars Helicopter at NASA Headquarters in Washington. "With this flight, we are demonstrating critical capabilities that will enable the addition of an aerial dimension to future Mars missions."
With each successive flight, the team has been piling on the pressure for the helicopter. This third flight not only showed a marked increase in distance and speed but also instructed the drone to capture more images on its own.
This time, the drone's onboard cameras, including its black and white navigation camera, were first properly tested under autonomous control. Especially the drone's onboard processing, storage, and transmission algorithms.
"This is the first time we've seen the algorithm for the camera running over a long distance," said MiMi Aung, the helicopter's project manager at JPL. "You can't do this inside a test chamber."
Thankfully for the team, Ingenuity performed flawlessly.
With this third test flight safely under its belt, the team plans on making a fourth over the next few days. Exciting times for anyone fascinated with the "Red Planet".
Watch this space.
innovation
Principal director of Civil and Commercial Space Systems at Draper Pete Paceley told us that August is 'looking pretty good' for Artemis I mission.