An Electric Plane Using Siemens Motor Just Broke World Speed Records
The electric aircraft by Siemens, the Extra 330LE, has just set two new speed records and a new world climb record a week ago. It made its maiden public flight on the 4th of July, 2016 in Dinslaken, Germany.
Siemens-powered Extra 330LE aircraft
Weighing approximately 1,000 kg, the Extra 330LE is an aerobatic airplane that is a prototype for the new drive system which drives its components to their limits, testing them and improving their design. The aircraft is suited for 20-minute flights that include take-off, climbing and five minutes of full throttle flight.
[Copyright Jean-Marie Urlacher]
It is powered by the motor SP260D that only weighs a mere 50 kg and sets the record of power-to-weight ratio producing a maximum of 260 kilowatts of energy. This is the first time that an electric aircraft flew in the range of performance class with a quarter of a megawatt of power. The development of hybrid electric aircraft containing four or more seats is now possible because of this prototype performance.
[Copyright Jean-Marie Urlacher]
The German-based engineering company is planning to use this technology with its electric-flying partnering company Airbus which both companies have set up in April 2016. Siemens and Airbus will utilize the SP260D motor as a basis for developing regional airliners powered by hybrid-electric propulsion systems.
The first electric aircraft with a capacity of 100 passengers and with a flight distance of about 1,000 km is envisaged by Siemens to be out by the year 2030. Using the hybrid-electric motor system for airplanes is the future of Siemens' avionics business.
The speed records
The first record the Extra 330LE has set was the top speed of above 340 km/h in straight flight and is recognized by the World Air Sports Federation or Fédération Aéronautique Internationale (FAI) under the category "Electric airplanes with a take-off weight of above 1,000 kg".
Another speed record was set by the Extra by being the world's first e-aircraft to tow a glider into the sky. The aerotow, piloted by Walter Extra, carried a type LS8-neo glider up to a height of 600 m in just 76 seconds.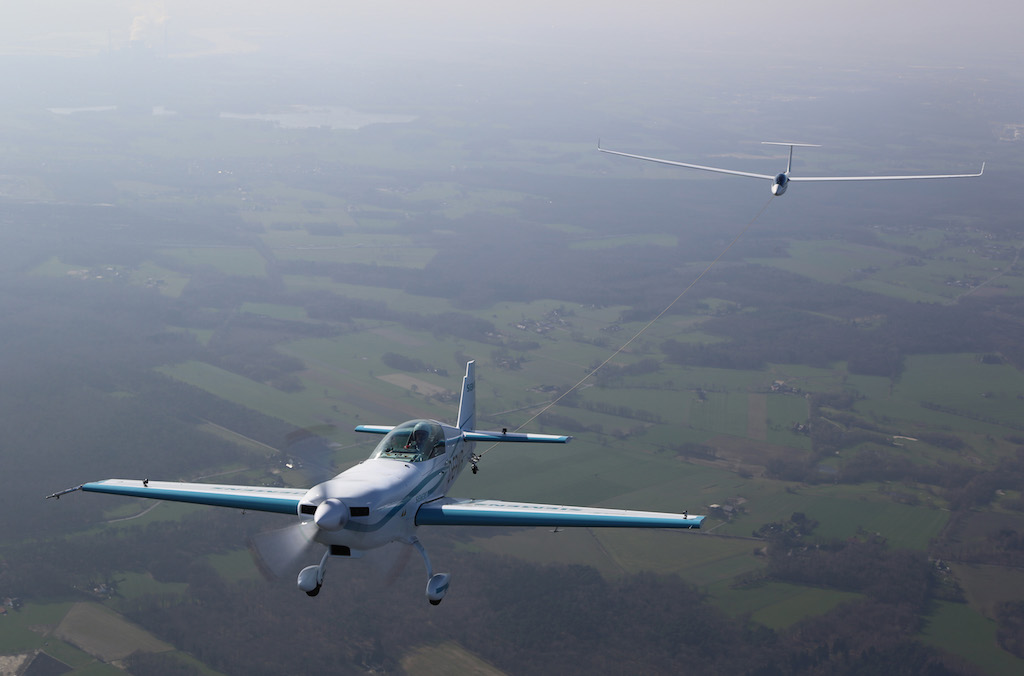 [Copyright Jean-Marie Urlacher]
"This aerotow provides further highly visible evidence of our record-setting motor's performance capabilities," said Frank Anton, head of eAircraft at the Siemens venture capital unit next47.
The world climb record
The Extra eAircraft has also managed to set a world record of climbing up to an altitude of 3,000 m in only 4 minutes and 22 seconds with a climb velocity of 11.5 meters per second. Compared to other drive systems, the Extra 330LE supplies five times more electric output of about 260 kilowatts constantly.
"This is another milestone on the path to the electrification of air travel, this amazing performance was possible only with digital technologies, which enabled us to optimize our drive train to its technical limit", says the Siemens' head of eAircrafts.
Other than being the fastest, being an electric aircraft makes the Extra 330LE plane a sustainable means of transportation as it doesn't contribute to the emission of carbon to the atmosphere.
The future can be envisaged to be sustainable and carbon-free through developments of technologies such as this.
science
Meet the woman who disproved Riemann, Helmholtz and Schrödinger.