Hyundai Unveils Fuel Cell-Powered SUV with an Impressive Range of 370 Miles
This new EV SUV can travel 370 miles on one charge, and when it's empty, only takes five minutes to fill back up according to Hyundai.
Leave it to Hyundai to provide one of the most interesting presentations at this year's CES. The automaker has been pushing for fuel cell EVs for a few years, but they're only one of a handful doing so. And today at this year's Consumer Electronics Show (CES), they showcased the Nexo -- a car meant to bring fuel cells into a mass-produced spotlight.
Unlike even the best Tesla offerings on the market, Nexo's hydrogen fuel cells promise fast charging. Battery electric cars can take up to an hour or longer to refuel. The Nexo charging stations promise a five-minute charge. It comes with a 95kW hydrogen fuel cell that powers the 40 kW battery. The car itself runs thanks to a 120 kW electric motor.
That motor offers speeds rivaling Tesla and other EVs, as many at CES noted both onstage and off. Its combined power and torque gives it the ability to go 0 to 100 km/h in just under 10 seconds (9.6 seconds to be precise). The range of 600 km also outperforms Tesla's Model S range of 500 km. However, Hyundai noted that it could top out at 800 km which is what has been reached during regular testing of the vehicle.
Not only does the Nexo offer unique charging and power with its hydrogen cells, it's combining that charging with the latest in self-driving technology.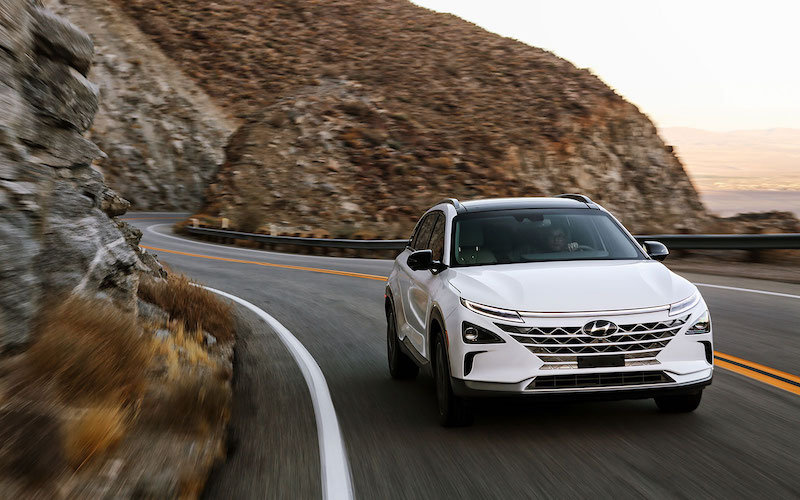 In order to create the "society of zero accidents," according to Vice Chairman of Hyundai Motor Group's R&D division Woong-Chul Yang, Hyundai included an intelligent driver assist system. Nexo will also be able to park itself with or without a driver. It also includes an exceptional video feed of rear blind spots.
[see-also]
The biggest problem with the Nexo comes, ironically enough, from its biggest promoted solution. On the whole, EVs might offer the automotive industry with some of the most innovative technology in recent years. However, charging and supporting that technology is still rarely supported by the infrastructures of various countries around the world. Tesla's Supercharging stations, while increasingly popular, aren't nearly as ubiquitous as the local Shell gas station.
And if 'traditional' electric chargers struggle with making their presence known against the likes of oil, imagine just how difficult it will be for Nexo and other fuel-cell-powered cars to get charging stations along major roadways. Currently, the only charging stations for the Nexo within the US are in the Los Angeles and San Francisco Bay areas of California. (Sorry, east coasters.)
The Nexo is scheduled to be on sale later this year, according to the CES announcement. The car will "fill" the spot left by Hyundai's first attempt at a mass-produced hydrogen cell vehicle -- the Tuscon FCEV. And while the Nexo looks similar to the Tuscon's compact SUV body style, the Nexo is considerably lighter with smarter packaging of its fuel tanks. Thus, the Nexo has more room for passengers and better efficiency on the road.
innovation
mRNA biotechnology stands to revolutionize healthcare by giving clinicians the power to direct our bodies to make the specific proteins we need.