Mississippi Hero Rescues Stranger's Mazda RX-7 From a Flood
This bighearted hero took the roads after seeing an orange Mazda in a flooded parking garage.
Mississippi has been hit hard by Tropical Storm Cristobal, and its recent storms and floods have prompted an uplifting story centered around many enthusiasts' dream Japanese golden nugget: Mazda RX-7.
Amid the recent storms, one bighearted hero took the roads after seeing an orange Mazda parked on the bottom floor of a flooded parking garage, waiting for its savior as the water got higher and higher.
After seeing a Facebook post showing the dramatic scene, Austin Owens, a self-described Japanese car lover, had to rush in to save it, even though he had no idea who the owner was.
SEE ALSO: YOUTUBER PULLS ABANDONED MAZDA RX-7 FROM THE BOTTOM OF A RIVER
Flooded up to its rocker panels
The story started at the Golden Nugget Casino in Biloxi and a local Cars and Coffee page on Facebook. A post showed two photos of an orange FD RX-7 with floodwater up to its rocker panels. The post read, "Bottom story of the golden nugget right now, oof."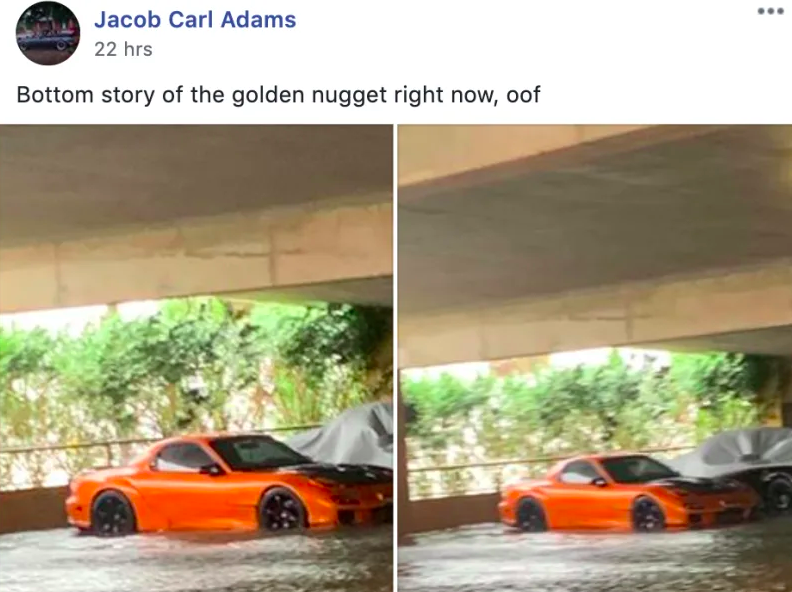 First destination: Home Depot
Once Owens and his friend saw the post, they knew they had to take action. Their first destination was Home Depot where they purchased cinder blocks, and their road trip through the heavy floodwaters and closed roads would start.
Determined to save the Japanese beauty, they drove to the casino; however, once they got there, they saw that the owner was actually there in the first place. The car was set on wood blocks, thin bricks, and orange wheel chocks, however, that wasn't enough since the water in parts of the garage was knee-deep.
Slid cinder blocks under the Mazda
They decided to help them by sliding the cinder blocks under the Mazda's tires, and it was a success since one of the owner's friends told Jalopnik that Owens' actions gave them "adequate time to combat the rising water."
Then as quickly as they came, Owens and his friend left. The rescue became viral, and people started to praise and thank Owens for his involvement.
The rescue became viral
Soon, more information would surface, such as the owner of the car belonging a local convenience store owner, and the RX-7 having a built rotary engine and being painted only a month earlier.
When asked why they went all the way to save someone else's car, Owens said, "It's a beautiful rare car, and there's not too many of them around anymore. It's one of my dream cars. There's no way I can leave that car sitting there like that."
Owens added, "It was definitely worth it. It's a rare car...I would hope somebody would do the same for me if I was in the situation with a car of that stature. I didn't have it in my heart to leave it there."
T/H Jalopnik
science
Scientists find ancient tree roots flooded oceans with excess nutrients, triggering mass extinction of life. Could today's human activity cause the same?