Northrop Grumman Successfully Tests Its New Solid Rocket Motor
The test of the GEM-63XL solid rocket booster will power ULA's Vulcan Centaur rocket to the Moon.
On January 21, 2021, at its Promontory, Utah rocket testing facility, Northrop Grumman successfully conducted a validation ground test of its extended-length 63-inch Graphite Epoxy Motor (GEM-63XL).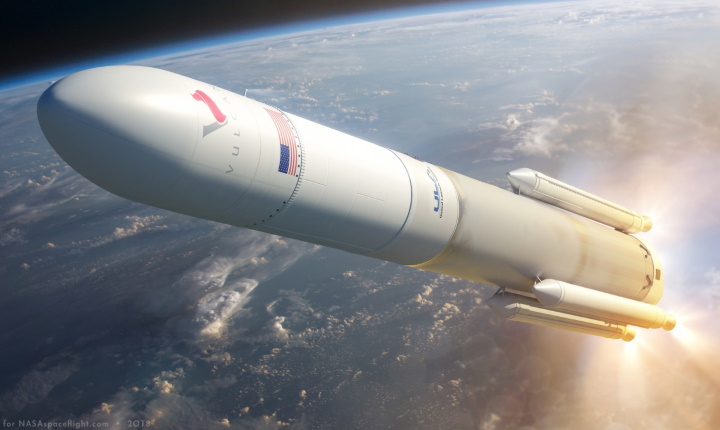 The first GEM-63 motors supported the United Launch Alliance's (ULA) Atlas V rocket in November 2020. ULA is a joint venture between Lockheed Martin Space and Boeing Defense, Space & Security. The GEM-63XL is the rocket that will power the Vulcan Centaur launch vehicle, which is planned to carry cargo to the Moon sometime this year.
At 2,197 cm (865 inches) in length, the GEM-63XL is longer than the earlier GEM-63, and the XL has a pointed nosecone rather than the blunt, curved nosecone currently used. The XL's nozzle exit cone is 1.6 m (60 inches) in diameter, and its propellant mass is 47,853 kg (105,497 pounds). The GEM-63 has a 147-cm (58-inch) exit cone and a propellant mass of 44,087 kg (97,195 pounds).
Northrop Grumman Vice President of Propulsion Systems Charlie Precourt has told NASA, "The GEM-63XL increases thrust and performance by 15 - 20 percent compared to a standard GEM 63."
SEE ALSO: INDIAN COMPANY SUCCESSFULLY TEST-FIRES ITS SOLID-FUEL ROCKET
The purpose of the January 21, 2020 test was to validate the performance of the new motor's internal insulation, the grain of its solid propellant, and its ballistics, in a hot-conditioned environment. A previous test of the motor conducted on August 13, 2020, was for a cold-conditioned environment. At today's test, the rocket motor fired for approximately 90 seconds and produced nearly 203,600 kg (449,000 pounds) of thrust.
The GEM family of strap-on motors was originally developed during the 1980s, with the GEM 40 supporting the Delta II launch vehicle, and the GEM 46 supporting the Delta II Heavy launch vehicle. The heavy lifter of the group (pun intended) was the GEM 60, which flew on 26 Delta IV launches before being retired in 2019.
Not so great for me
While today's test was great for Northrop Grumman, it wasn't so great for me. I happen to live fairly close to Northrop Grumman's rocket testing facility, and today at 1:00 p.m. things at my house were really hopping, as in, the whole house was hopping and shaking, dishes were rattling around in the cabinets, and there was a deafening roar.
And it wasn't just me, people on our local Facebook group living 50 miles away in Logan, Utah also reported feeling their houses shake and hearing a roar. Now, consider this: the GEM-63XL is just one strap-on rocket motor which, according to NASA, will be configured in groups of two, four, and six on the Vulcan Centaur vehicle, and that isn't even considering the thrust created by that vehicle's base rocket motor.
Awesome power
The awesome power needed to lift payloads was really brought home to me today. The GEM-63XL will help lift payloads ranging from 18,500 kg (40,800 pounds) to 27,200 kg (60,000 pounds) into low-Earth orbit, and it will lift payloads of 7,600 kg (16,800 pounds) to 14,400 kg (31,700 pounds) up to geostationary altitude.
NASA has described the August 13, 2020 test this way: "The first GEM-63XL motor for the ULA Vulcan Centaur's strap-on boosters was successfully test-fired for approximately 90 seconds, sending 449,000 lbs of thrust along with bright fire, loud noise, and vibration into the sunny desert sky ..." When they say "bright fire, loud noise and vibration" they aren't kidding.
culture
Chris Long is no stranger to getting millions involved in social causes and now want to leverage technology to involve billions of people.