In pictures: These spider excavators came straight out of the Transformers movie
These walking spider excavators are among the 'greatest sandpit toys in history.'
The S2 is the ideal all-round machine for a wide variety of deployments in the toughest of terrain.
These spider excavators have stunned many tech aficionados; the obscure machines undoubtedly rate among "the greatest sandpit toys in history."
The articulating, extending legs, stabilizers, tilting wheels, and buckets of the walking spider excavators provide an astonishing range of powers to the machine, according to an article published on Thursday by the technology publication New Atlas. 
"Walking excavators are not new. Not by a long way. But we hadn't run across them before, so we thought you might not have either, and they're a wonderful celebration of hydraulic machinery that's mesmerizing to watch in action," said New Atlas in the report. 
Since 1966, when Josef Kaiser created his first walking machine at the factory of his buddy Ernst Menzi, these items have existed. 
The two friends didn't remain close for very long; according to Kaiser's own history, Menzi allegedly seized the concept soon after the first prototype was demonstrated and began marketing it as the Menzi Muck, while Kaiser began producing them with his own business.
50 years of business and counting
Both firms have been creating and marketing these extraordinary monster machines for more than 50 years now. Perhaps the fascinating rhythm of these excavators got them glued despite very little demand. 
Regular, less expensive tracked or wheeled excavators work just well for 99 percent of projects; thus, they are not particularly well-known or popular. 
Their enormous hydraulics need regular, substantial maintenance, which raises the expense of operation. And as you can probably guess, learning to operate a vehicle with such extraordinarily vast and varied capabilities is an enormous challenge.
"At least you don't need to worry about them getting stolen," said one Australian owner/operator, joking on Machines4U, New Atlas noted.
Why were they created?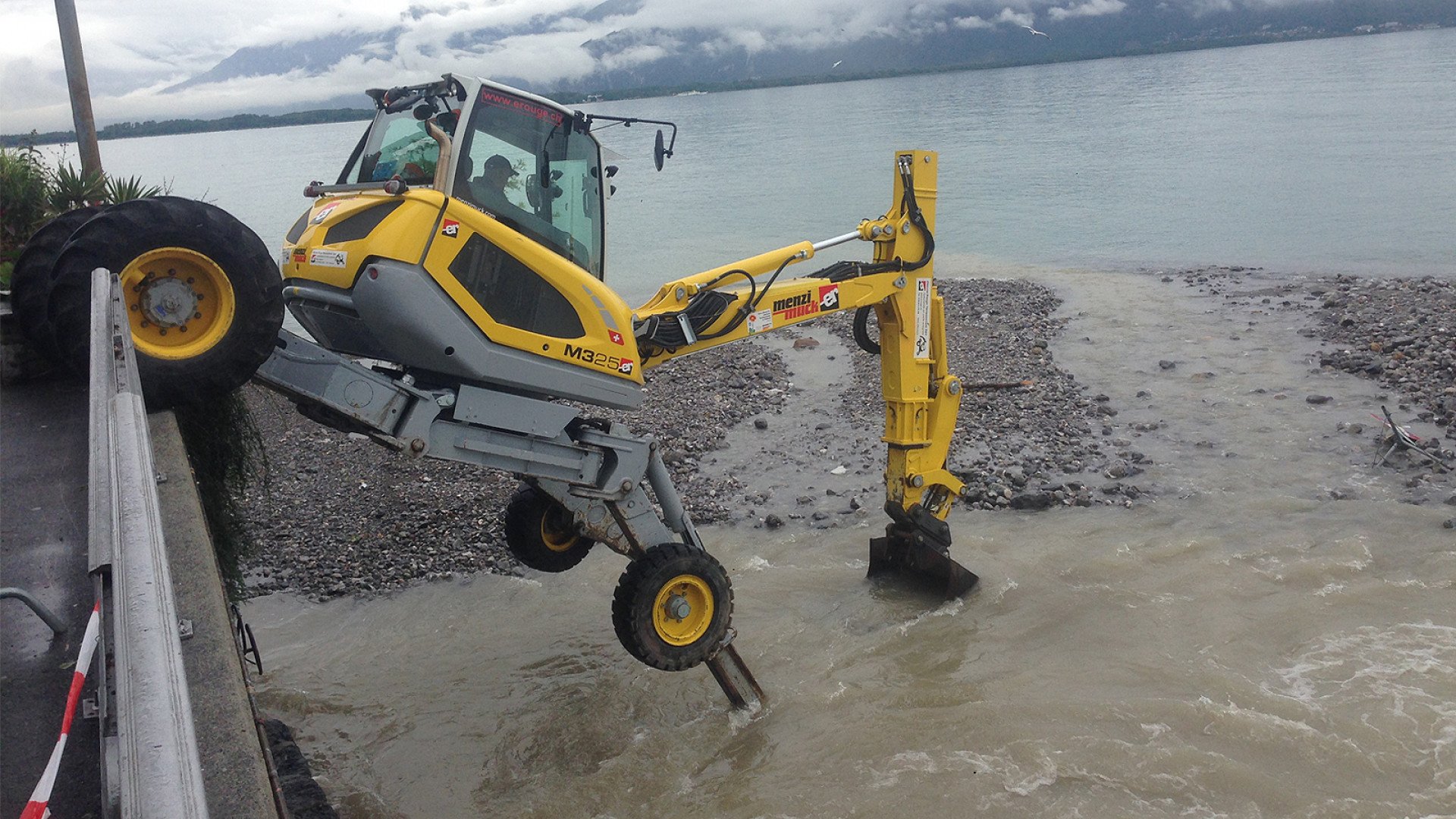 Ordinary wheeled and tracked excavators might be extremely risky to operate on the steep slopes and challenging terrain of the Swiss Alps, where walking excavators were first developed.
They initially had a pair of straightforward single-axle wheels on the back and a pair of fixed feet on the front, and they moved around by lifting the legs with the hydraulic arm and bucket, dragging the wheels with it.
They started adding wheels and stabilizer feet to their own hydraulic arms in the early 1970s, which allowed them to sit level on a variety of inclines and gave them more leverage, grip, and stability for lifting and ripping jobs. 
Telescoping hydraulics were made accessible by the late 1970s, allowing those legs and spider wheels to spread out even further.
Spider excavators of today are fascinating creatures in motion. The hip, knee, and ankle joints allow the legs to stretch, retract, raise, and bend. 
The cabin is fully rotating, the legs' ends have independent, driven caterpillar tracks or hydrostatically powered wheels that can all be tilted, and the robust excavator booms can exert greater force than tracked excavators twice their weight. 
The Transformers
Additionally, they can traverse a larger variety of topographies and geographies than any other excavator. They can even climb over barriers and scale steep, muddy slopes that a conventional excavator would never dare to attempt.
Spider excavators are capable of handling the most difficult tasks in hostile conditions. And you're in for a mechanical treat if you have the chance to see one in action at an expo, the kind of thing that might remind you of Transformers, the famous science fiction movie series.