This Eco-Friendly Floating Pod Offers Luxury Accommodation
Float your problems away with this pod that works as a cabin, a spa, and even a certified boat.
If you're feeling unsure about being in close proximity to other people this year, and we don't blame you given the current global situation, then here's a solution: stay in your very own floating pod!
Anthénea, created by a French company with the same name, is a circular luxury pod that floats on water and is also certified as a boat. It offers some of the most isolated and unique accommodation options out there.
SEE ALSO: COMPANY CREATES FLOATING MOORING SYSTEM TO MINIMIZE IMPACT ON SEAFLOOR
An eco-friendly, luxury room
Aside from being an incredible feat of design and architecture, Anthénea is also eco-friendly. It comes adorned with a sand screw anchoring system that doesn't harm the seabed and its ecosystems.
Its roof is adorned with solar panels, which gather enough energy to meet the electrical and hot water requirements of the pod. And it comes equipped with specialized black and gray water stations that only release clean water.
Pretty neat!
As for the pod itself, it comes in a number of formations. You can enjoy it as accommodation and choose to have one cabin, or two, or three. It can also be kitted out to be a floating spa, or a completely private floating business meeting space. Naturally, it also has a bathroom, a lounge area, and a kitchenette.
Its completely circular 360-degree view offers all-round vistas of what's above, and below, the water's surface. You can literally watch your friend or family member swim around the pod as you sit comfortably inside.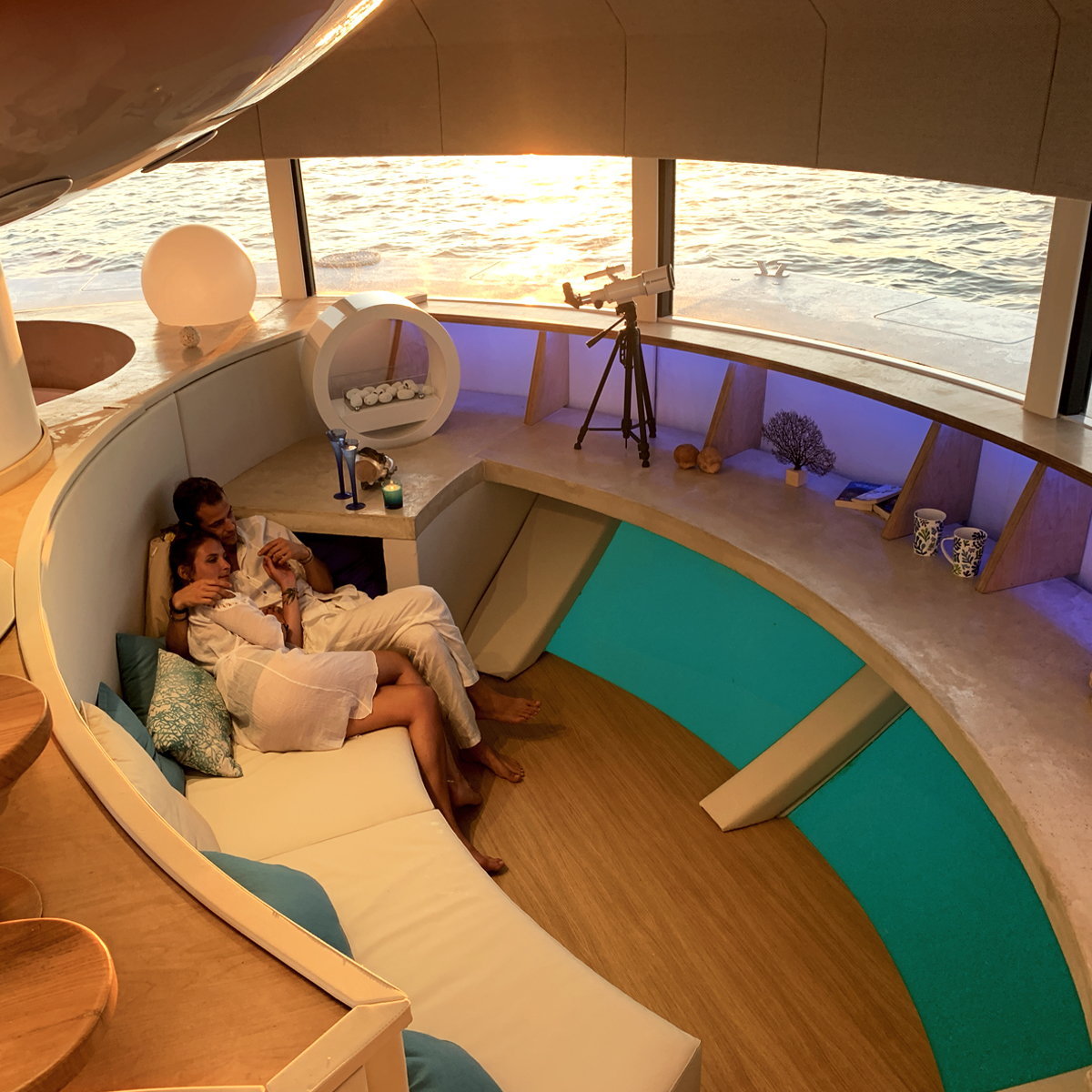 And all of this fits into a 98.4-foot (30-meter) peripheral deck with a surface space of 538-square-feet (50-square-meters) with a height of 15.6 feet (4.76 meters). It can fit up to 12 people on it at a time.
Currently, the Anthénea pods are available to hotels, businesses, and private persons, however, the prices aren't listed on the site so it's hard to know the exact price. As per Bored Panda's sources, it costs an estimated $330 per night and around $535,000 to buy one.
Floating boats seem to be in the in-thing this year, as you can also go to the cinema on a floating boat now.
health
Why do we do it, how can we stop it, and who else is at it?