Watch Live: Tesla Will Hold An Exclusive 'Handover Party' for the First 30 Model 3 Owners
Tesla Motors has organized an exclusive "handover party" for the first 30 Model 3 owners this Friday, 28th of July at the EV's factory in Fremont, California. The event is scheduled for 7 p.m. Pacific Time and a live webcast is available here in case you're interested to see what goes on in these exclusive gatherings.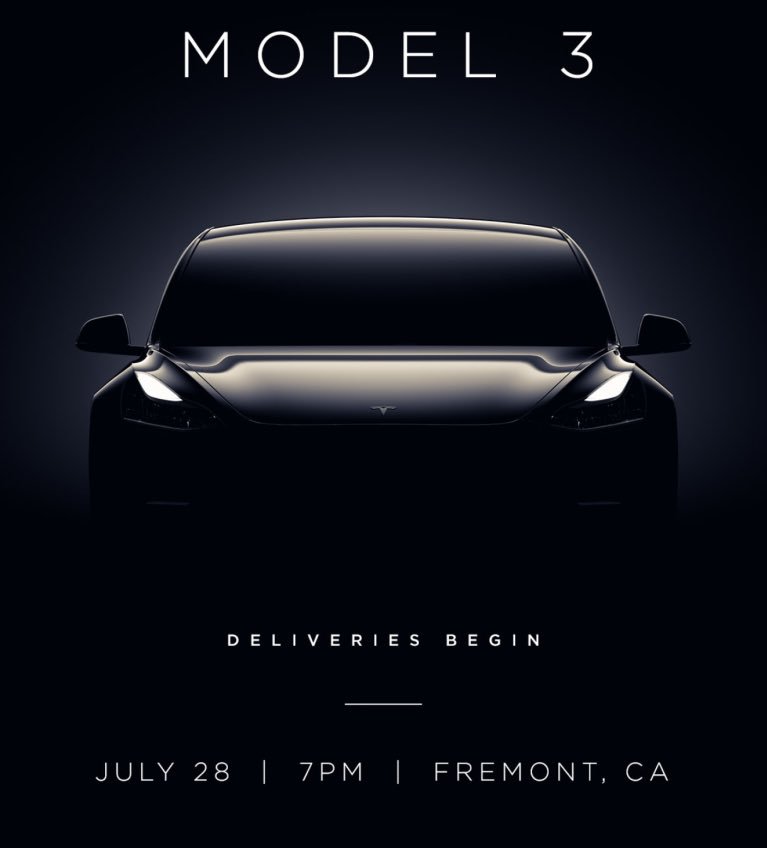 [Image Source: Tesla/Twitter]
Watch the first Model 3 handovers on https://t.co/7Ol1Bw0ZaG this Friday at 8:45pm PT pic.twitter.com/b00OZGviNK

— Tesla (@TeslaMotors) July 26, 2017
Tesla is entering a new era
With a reported 400,000 pre-orders of the Tesla Model 3 since its unveiling event last year, Tesla has now entered a new era in its production history. As the first 30 Model 3 EVs are ready to be handed down to their new owners, Tesla is ultimately targeting to produce 500,000 Model 3s by 2018. The electric vehicle designer and manufacturer is gradually ramping up their production volume before this year comes to a close. Tesla is hoping to produce 100 cars in August, over 1,500 in September, and 20,000 per month when December comes. In a bid to spread their reach to the mass-market, Tesla has set a goal to manufacture 1 million electric vehicles per year by 2020. However, Tesla's future vision to mass-produce EVs is not just exclusive to Model 3 but to all of their electric cars.
Tagged with a base price of $35,000, the new Model 3 family-sized EV is considerably more affordable compared to Tesla's earlier Model S and Model X. And with a deposit cost of only $1,000, the demand for Model 3 is expected to steam up Tesla's factories. But designing and manufacturing are not the only focus of Tesla in the long run. To support their thousands of global customers, Tesla has also announced its plan to expand their automotive services by opening up 100 new service centers worldwide.
Is Elon Musk attending the handover party?
Logic says he is. Musk was gifted with the rights to the serial number 1 production version of Model 3 for his 46th birthday last month by Ira Ehrenpreis, an early investor and board member of Tesla Motors. The Tesla CEO owns a black version with 19" wheels. According to the RSVP invitation sent out by Tesla, the handover party will be held outdoors and guests are advised to wear light outwear "in case of cool weather".
[Image Source: Tesla]
So, what else could the Model 3 surprise us with? One source reported that Tesla's Vice President of Engineering, Doug Field, was seen entering or accessing the Model 3 using only a "booklet" with a small RFID card in it. Now, we won't quickly jump on the "keyless car" band wagon just yet. With the handover party scheduled to take place in a few hours, we can expect to hear more news about Tesla's plans for the new EV. Elon Musk did say that after getting Model 3's first configuration right, Tesla will begin to introduce more complex configurations such as dual motors. Who knows what other configurations the Model 3 could have - only time will tell.
Sources: Tesla Motors via Twitter, Tesla Motors Club
science
After the recent breakthrough in nuclear fission research at JET, scientists discuss ITER and the next steps towards a future powered by clean energy.