You Can Create Your Very Own Paper Tesla Cybertruck
A paper engineer and graphic designer has shared their foldable paper truck instructions for those who can't wait to get their own Cybertruck.
It seems like Tesla's Cybertruck bonanza will never end. Today, we're grateful for it as graphic designer and paper engineer, Alex Gwynne, recently shared their paper Cybertruck instructions on their website.
It's stylish, looks cool, and is a little bit more affordable than the actual Cybertruck. Ok, so it's in fact free.
It's also a great option for those who can't wait to get their own real-deal Cybertruck.
RELATED: TESLA'S CYBERTRUCK PRE-ORDERS ARE SO STRONG THAT IT CHANGED ITS PRODUCTION TIMELINE
Who made the Cybertruck paper design?
Alex Gwynne has been a graphic designer and paper engineer for over a decade. Designing paper toys and crafts is the name of their game.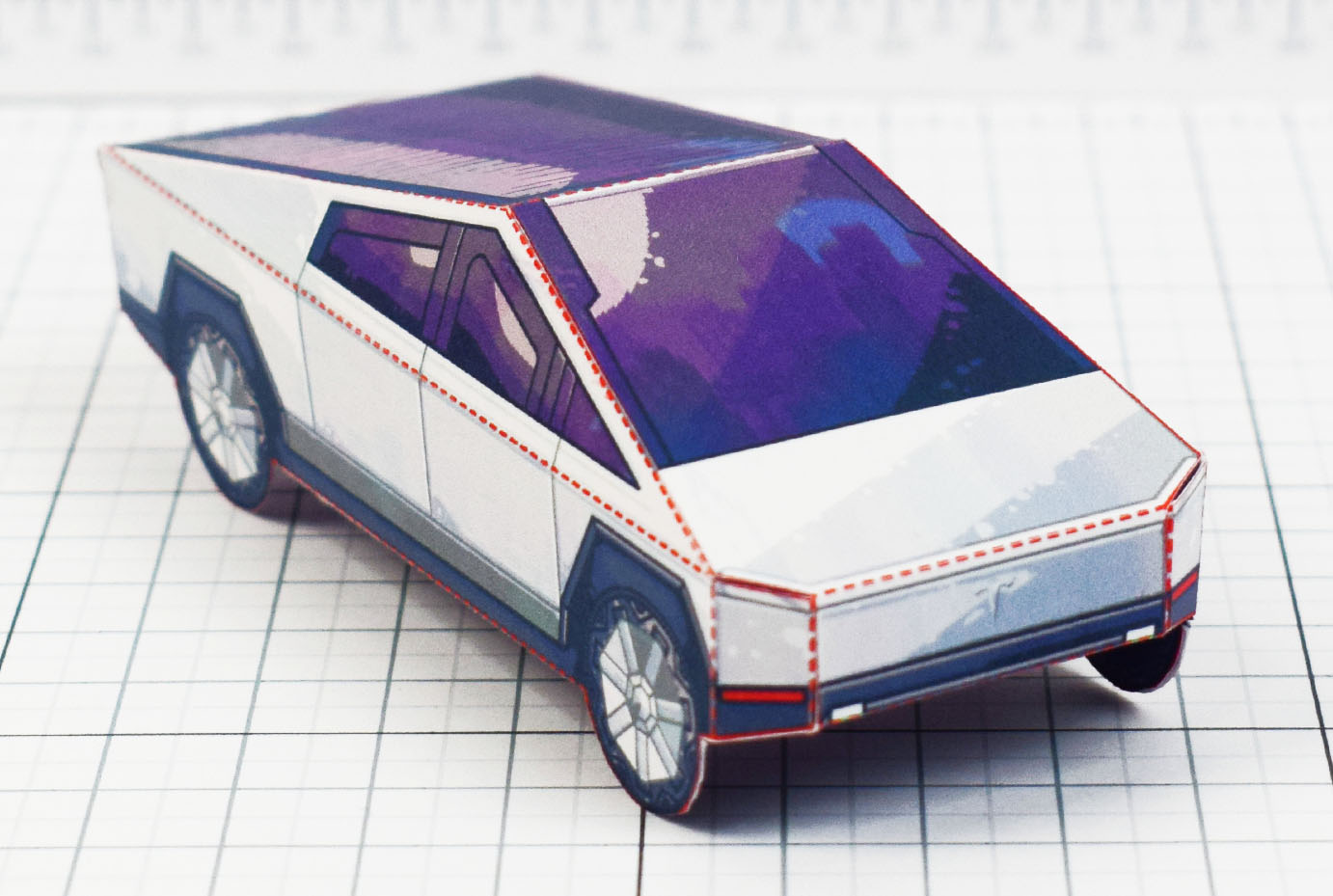 Given all the attention Tesla's Cybertruck has been receiving, Gwynne decided to put together their very own Cybertruck project: a foldable 3D paper Cybertruck.
Gwynne and many other people noticed how boxy the Cybertruck is and realized it would be a perfect candidate to be turned into a foldable paper project.
It goes to show how some imagination can go a long way.
What's fantastic about Gwynne's project is that it's accessible to anyone to download, print, and create by themselves.
All you have to do is download the file from Gwynne's website (here), print the model onto paper or card, cut out the shape following the outlines, fold the paper or card at the designated places, glue everything together, and there you have it: your very own Tesla Cybertruck.
People have already proudly been sharing their little Cybertruck paper creations on social media, here are some of the final projects:
Thanks! Looks good on paper. pic.twitter.com/4QZaOm2e3M

— Leo Xavier (@lxvr) December 12, 2019
Some are adding their tidbits to it, requesting a few changes be made. Let's see if a life-size paper folded version of the Cybertruck ends up being created someday.
Appreciate the work. However I saw 2 issues, can you plz modify it? About "rear roof" part, 1) it's a glass and a bed-cover. Now it looks only a bed-cover. 2) Paper is too trapezoidal compared with real car (from top view) since bed-cover is a perfect rectangle. Thanks. pic.twitter.com/U2k592n5Rj

— ingmu Lin (@ingmutw) December 12, 2019
culture
Professor John Gunnar Carlsson reroutes the world using the power of math. Carlsson, who is known for solving distribution problems using geometry tells us about his strategy.